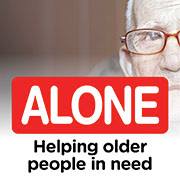 Charity comments on government's Budget 2017 announcements
ALONE, the charity that supports older people to age at home, has welcomed the increase to the state pension, announced as part of Budget 2017, but stated that the government needs to do more to support older people in the community.
Sean Moynihan, CEO of ALONE, commented, "While we welcome the €5 increase to the pension, we have been campaigning for an indexing of the pension to ensure that its value is safeguarded for older people. This would end the yearly calls for pension increases and give older people fair financial independence."
ALONE's pre-budget submission called for an increase in home help hours in line with demand to ensure that older people are supported to age in the community. The number of home help hours has been cut by 1.28 million since 2010. In that time, the number of older people in the state has increased by 18%. With homecare packages falling short of need, many older people are topping up publicly provided homecare with private homecare.
Moynihan, continued, "There has been no announcement from the government yet on homecare packages. However, there has been cross party support for ageing in the community. We must plan and make this a reality.  With our ageing demographic, supporting older people to age at home must be a priority for every government."
In response to the €5 reduction in the maximum fee that over-70s pay for medicine, Moynihan commented, "This reduction is a move in the right direction as the introduction of the €2.50 prescription charge over the last number of years has had serious health implications for older people. ALONE has witnessed the struggle of older people who have had to prioritise certain medicines as they cannot afford their entire prescription."
The charity also welcomed the government's increase to the rent supplement. In the last year ALONE has seen a dramatic increase in the number of homeless older people coming to them for help; a large portion of them having been evicted from private rented accommodation.
Moynihan concluded, "We need to keep planning and looking long term every year, as Ireland's older population is set to reach 1.4million over the next 30 years. ALONE believes that it is vitally important to restore services and supports in the community as these are of equal value, if not more valuable, to older people than an increase in the state pension."
For those who have concerns about their own wellbeing, or the wellbeing of a vulnerable older person in the community, ALONE can be contacted on (01) 679 1032 or visit www.alone.ie.
https://limelight.ie/wp-content/uploads/Image-with-Logo.jpg
180
180
support@inspiration.ie
https://limelight.ie/wp-content/uploads/2022/02/logo-2022-300x95.png
support@inspiration.ie
2016-10-11 08:53:15
2016-10-11 08:53:15
ALONE comments on government's Budget 2017 announcements