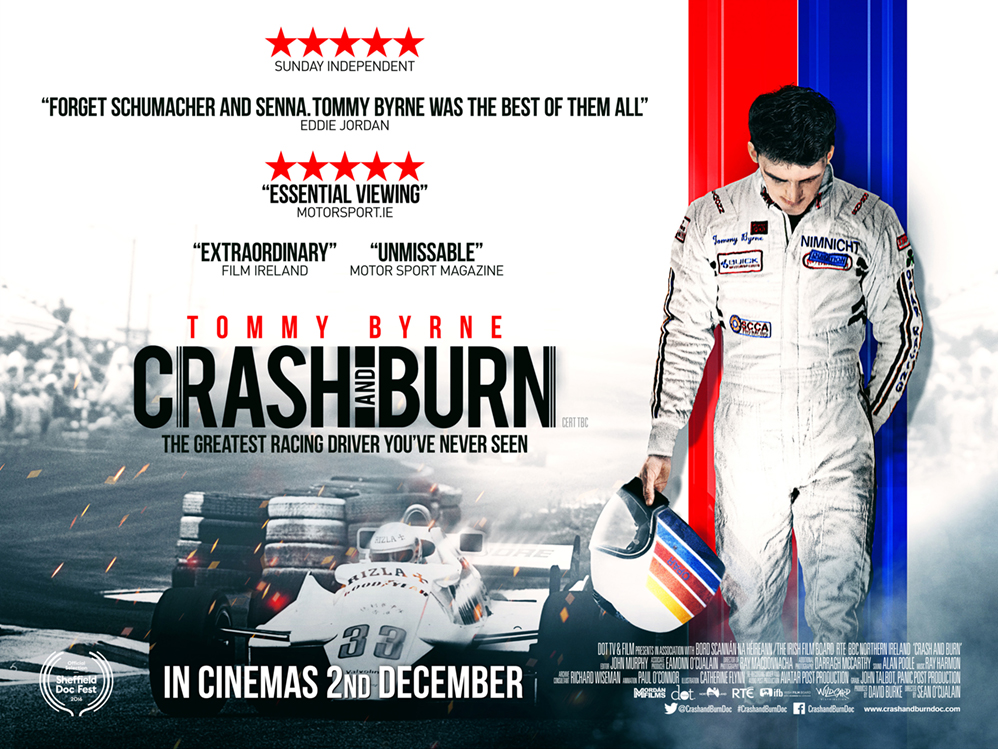 Crash & Burn, which tells the story of Dundalk-born Tommy Byrne, who for a fleeting moment in the early 80s was the world's greatest driver, will be released in Irish cinemas on Friday 2nd December.  Wildcard Distribution who will be releasing the film in Ireland and the UK.
The motor racing equivalent of George Best and Muhammad Ali all rolled into one, Tommy Byrne went from driving a Mini Cooper in stock-car racing to the big-time in Formula One in a little over four years and was a serious rival of Ayrton Senna.
Eddie Jordan the former team-owner, who worked with both Senna and Michael Schumacher has said: 'Forget Schumacher and Senna. Tommy Byrne was the best of them all.'
Tommy's rise was meteoric and his fall spectacular.  He was a cocky, aggressive driver from humble roots and the F1 glitterati simply didn't like the mix. Directed by award-winning filmmaker Seán Ó Cualáin, the documentary shines a light on one of professional racing's most dashing and charismatic talents and a glittering career that was doomed before it ever began.  It is the story of the greatest F1 driver never to emerge.
Tommy, who now lives in the US, has travelled back to Ireland to attend a number of screenings and take part in Q&A's ahead of the film's release in Ireland and the UK on December 2nd, one of which is the screening and Q&A in Dundalk Omniplex on December 1st.
The film was produced by David Burke Dot TV & Film with funding from the Irish Film Board, RTE and BBC Northern Ireland.
Find out more about Crash & Burn
Website:  www.crashandburndoc.com
Twitter:  twitter.com/CrashandBurnDoc
Facebook:  facebook.com/CrashandBurnDoc
https://limelight.ie/wp-content/uploads/Crash-Burn.jpg
749
998
support@inspiration.ie
https://limelight.ie/wp-content/uploads/2022/02/logo-2022-300x95.png
support@inspiration.ie
2016-11-24 15:31:56
2016-11-24 15:31:56
Crash & Burn to go full throttle in cinemas on December 2nd