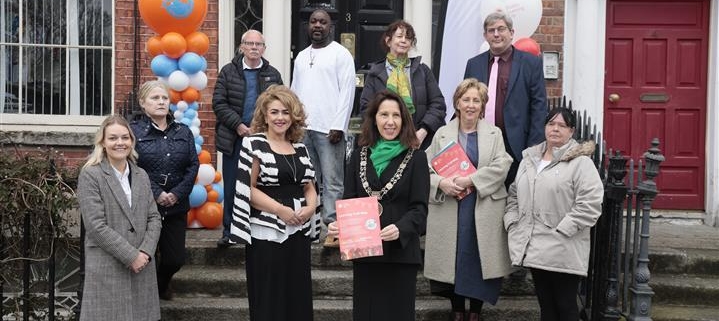 Dublin's first Learning Neighbourhood was launched today by Lord Mayor of Dublin Alison Gilliland in the Dublin Adult Learning Centre, Mountjoy Square. The project's vision of Dublin's North Inner City is a thriving and dynamic area where inclusive education is secured through collaboration and shared support, working closely with learning providers and residents in the North Inner City to sustain lifelong learning practices.
Launching the initiative, Lord Mayor of Dublin Alison Gilliland said, "The Learning Neighbourhood is a fantastic opportunity to celebrate the empowerment and confidence lifelong learning gives us. Learning can be fun and there are incredible opportunities to learn for free right on our doorstep, including the beautiful Hugh Lane Gallery and local libraries that offer great services in this community!"
To encourage adults to get involved, Learning Neighbourhood has produced a Learning Trail for this Wednesday, 6th April.  This map highlights opportunities for adult learners in Dublin's North Inner City such as adult & community education, personal & social development, Community Employment schemes, art & performance, and Local Training Initiatives.   Fifteen centres in Dublin's north inner city, mapped out on the Learning Trail, are inviting the public to drop-by, participate in workshops and tours, enjoy refreshments and hear of the exciting learning opportunities each centre has to offer.  A copy of the Learning Trail Map is available from www.dublinlearningcity.ie
Mary Maher of Dublin Adult Learning Centre and Dublin's Learning Neighbourhood stated, "With the Learning Trail, we want to highlight and promote all the learning opportunities that take place in this neighbourhood, from reading and writing, learning how to use computers, gardening, how to become a global citizen and lots more. We want to provide opportunities for adults in our neighbourhood to improve skills across a variety of areas that will help secure employment."
She continued, "Having been in isolation and lockdown for 2 years we want to encourage adults to get involved and join in the event. It could be the first step to changing their life."
Denise McMorrow, Co-Chair of Dublin Learning City stated, "Learning is such a powerful way to enhance the quality of a person's life. We are all learning everyday through everything we do.  From the cradle to the grave we never stop learning. Learning is empowering and it gives us confidence. A core aim of Dublin Learning City is to promote equal access to education across Dublin.  We strive to establish lifelong learning for everyone, no matter their background.  The Learning Neighbourhood is a fantastic opportunity to achieve this."
Sean Delaney Co-Chair of Dublin Learning City continued, "The Dublin Learning City Festival is excited to collaborate with the Learning Neighbourhood on the Learning Trail and the incredible centres across the north east inner city who are participating to promote lifelong learning.  There is great synergy between Dublin Learning City and Learning Neighbourhoods with us sharing the same core values – to promote inclusiveness, the right to education and to facilitate lifelong learning for all. "
The Learning Neighbourhood Project is supported by a steering group comprised of staff from Dublin Learning City and the City of Dublin Education and Training Board (CDETB)  North Inner City Adult and Community Education Forum. The network is representative of a broad range of services and projects, in particular those that are engaged in the provision of adult and community education in Dublin's North Inner City.
The Learning Neighbourhood Learning Trail on Wednesday 6h is a key event of the Dublin Learning City Festival which runs from Monday 4th to Wednesday 6th April. Further information can be found on www.dublinlearningcity.ie.
https://limelight.ie/wp-content/uploads/2022/04/Learning-Festival-Launch-002-Small.jpg
480
719
Limelight Comunications
https://limelight.ie/wp-content/uploads/2022/02/logo-2022-300x95.png
Limelight Comunications
2022-04-05 12:20:08
2022-04-05 12:20:08
Dublin Adult Learning Centre launches Learning Neighbourhood