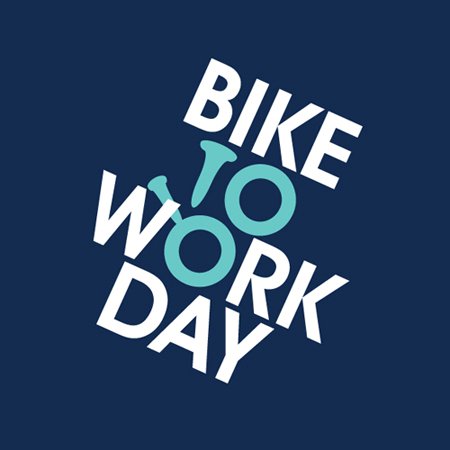 Fun, Free Bike to Work Day 2013 Lunchtime City Cycle Launches
Dublin's top showbiz personality, 98FM DJ Siobhan O'Connor joined cycling enthusiasts Dublin Lord Mayor Naoise Ó Muirí and Michael Philips, Dublin City Engineer and Director of Traffic, Dublin City Council to launch the third annual Bike to Work Lunchtime city cycle.  Dublin City Council's hugely popular annual event, running as part of 'National Bike Week' will take place on Wednesday 19th June (www.dublincity.ie/lunchcycle).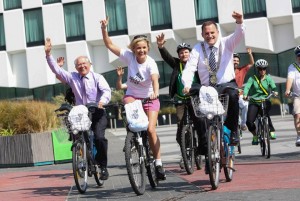 Join thousands of fellow Dublin cyclists taking part in the 2013 leisurely lunchtime cycle (6km / 30 minute), kicking off from Grand Canal Square in Dublin Docklands at 1 pm SHARP.  The route weaves through the streets of Dublin, passing some of Dublin's most impressive landmarks including SamuelBeckettBridge, the Custom House, TrinityCollege, Merrion Square, The Pepper Canister Church and the Grand Canal Premium Cycle Route.
Don't delay! Register early online @ lunchtimecycle.eventbrite.ie/ and get one of the first 500 goodie bags brimming full of treats!   In addition, everyone who registers online for the event is placed in a draw to win an Apple iPad! And there's also 'Best Dressed' and 'Best Company Team' prizes up for grabs – so there's something for everyone.
All Dubliners who cycle or use dublinbikes are invited to participate in what is hoped to be a record breaking year, passing 2012's amazing 2,000 cyclists!
More and more people are choosing to travel by bike into the city, with numbers increasing by one third in the last ten years.  Dublin City Council has prioritised cycling and is keen to encourage more people to get on their bikes. The Bike to Work day lunchtime cycle aims to encourage people to adopt cycling as their preferred method of transport, highlighting the benefits such as:  a healthy stress free transport option; cost-efficient; environmentally friendly; and ultimately, a fun way to travel across the city.
Dublin's Lord Mayor Naoise Ó Muirí says "Cycling is the best way of getting around town and getting some exercise at the same time. Cycle numbers are growing every year and the Bike to Work lunch time city cycle is a great way of promoting cycling in Dublin."
Michael Philips, Dublin City Engineer and Director of Traffic, Dublin City Council said: "Dublin City Council continues to develop and invest in a high quality cycling network across the city. The network will include a number of premium, off-road "Greenways" such as the Tolka Valley and the S2S (Sutton to Sandycove) routes. In 2013, the National Transport Authority will provide some €5.3m for cycling projects within Dublin City and this will increase to approximately €7m in 2014".
Participants can gather in Grand Canal Square in Dublin's Docklands before setting off on the leisurely 30 minute cycle at 1 pm sharp.  The leisurely lunchtime cycle will conclude in Grand Canal Square with announcement of all competition prize winners, including best dressed, biggest business group, and market stalls selling food so everyone can grab a quick bite before returning to work.  The atmosphere will be electric!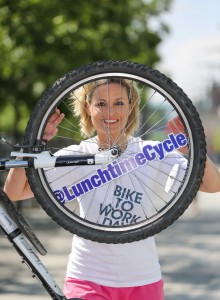 Dublin's 98FM are partners for Bike to Work event for the third year. 98FM Showbiz correspondent Siobhan O'Connor was at today's launch said; "98FM are delighted to be supporting Dublin's Bike to Work – Dublin City Council event for the third consecutive year.  We want everyone to encourage everyone who cycles in and around Dublin to take part on June 19th and make this a record breaking event.  We will be at the event supporting with goodies and helping hand out prizes to everyone so come on, join in! "
One4All prizes sponsor for Bike to Work lunchtime cycle event; "We are delighted to be involved again in this year's Bike to Work Lunchtime Cycle. The take up of the cycle to work scheme has been phenomenal and this year is proving to be the biggest year to date. It is such a worthwhile scheme for employers to provide and brings great benefit to employees and bike shops across the country" said Jock Jordan, Group Sales Director for One4all Bikes4work.
Keep in touch! For all the latest event updates, daily competitions and cycling tips check out www.dubincity.ie/lunchcycle; Become a Facebook fan on facebook.com/dublinbiketowork; Join Bike to Work LinkedIn group: Dublin City Cycling or tweet us @LunchtimeCycle and check out – www.dublincity.ie/lunchcycle.
Bike to Work day Lunchtime Cycle takes place as part National Bike Week (15th-23th June 2013).
https://limelight.ie/wp-content/uploads/Bike-to-Work.jpg
450
450
support@inspiration.ie
https://limelight.ie/wp-content/uploads/2022/02/logo-2022-300x95.png
support@inspiration.ie
2013-06-10 16:35:45
2013-06-10 16:35:45
Dubliners called-on to support biggest "BIKE TO WORK" cycle yet