ALONE is supporting thousands of older people across the Country this Christmas
ALONE, the organisation that supports older people to age at home, reports on an intensification of issues and concerns felt by older people during the calendar year of 2021. Support issues ranged across the areas of Support & Befriending, Safety & Security, Home & Personal Care, Technology, Housing and Financial/Legal. Support plans, which outline goals for the older person and responsibilities for ALONE staff, are due to exceed 6,500 by the end of the year. In addition, referrals from Hospitals, Primary Care Units, Local Authorities and the older person's family or themselves has exceeded 4,500.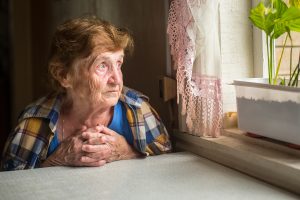 Older people are facing into one of the most challenging times of year coupled with the fears and uncertainty that this pandemic brings with it. ALONE fears that the issues and concerns older people are facing are spiralling out of control. Older people are not able to access the care and support they need to age at home. Our Home care sector is suffering a staffing shortage resulting in older people finding their home care hours being withdrawn and losing the life-changing care they require to remain at home.
Many older people, relying on the State Pension, are met with enforced deprivation due to financial constraints. An older person on the Contributory State Pension is €38.18 below the poverty line. Older people must choose between essential items such as a warm waterproof coat, food, transport or heat for their home. Among the older population, people living alone, with chronic illness and/or disability, on low incomes, and without central heating or living in poorly insulated homes are most at risk of fuel poverty[1].
Seán Moynihan, CEO of ALONE has stated, "Fuel poverty has detrimental effects on the quality of life for an older person. Cold homes have been associated with increased deaths in winter and has been found to exacerbate arthritis, colds and flus, accidents, injuries and mental health issues. Those in fuel poverty may not be able to afford to socialise or may be reluctant to invite friends or relatives to their homes, creating an environment that would increase chances of experiencing loneliness and social isolation."
In 2021 a number of energy suppliers have increased their prices. Older people who are living on the State Pension, below the poverty line, are going to feel a huge pinch from their pockets. The average increase across all suppliers for electricity has been €489.15 and €284.31 for gas, a total of €773.46.
He continued, "Our staff and volunteers have worked tirelessly this year, with volunteers set to clock over 123,000 hours this year alone. That's equal to 512.5 full 24 hour days. But while we are on a mission to leave no one alone at Christmas, we are now asking you, the public, to stand with us and pledge one act of giving in support of our Christmas campaign. We are living with uncertainty around the virus so we must do our best to combat loneliness and social isolation while we can. Remember to gain consent from an older person before you invite yourself in to their home as they may be fearful to have too many contacts in the lead up to Christmas."
Help end loneliness for the isolated across Ireland this Christmas. You are the solution, don't waste the opportunity to make someone feel like you care. Make it your mission to leave no one ALONE this Christmas!
If you or someone you know needs support this Christmas, please call our National Support and Referral Line on 0818 222 024 from 8am – 8pm, seven days a week. ALONE operates 365 days a year so we will be there to take your call when you need us most.
https://limelight.ie/wp-content/uploads/2022/01/ALONE-Logo-Copy.jpg
387
945
Limelight Comunications
https://limelight.ie/wp-content/uploads/2022/02/logo-2022-300x95.png
Limelight Comunications
2021-12-14 16:48:53
2022-02-23 16:49:55
"Issues and concerns intensified for older people in 2021"