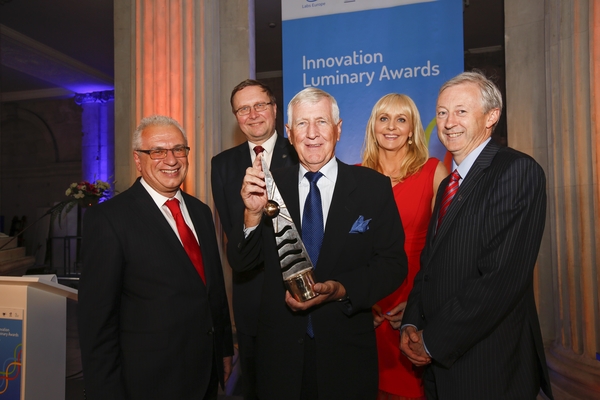 Stockholm has the Nobel, Hollywood the Oscars and today Dublin hosted the second annual European awards for Innovation Leadership. The Innovation Luminary Awards took place at a special gala dinner in Dublin's City Hall in advance of tomorrow's Open Innovation 2.0 Conference. Miriam O'Callaghan acted as master of ceremony for this evening's awards.
The Innovation Luminary Academy and Awards were established by the EU Open Innovation Strategy and Policy Group (OISPG) to celebrate and recognise outstanding innovation role models and through this to inspire the next generation of innovators. They are held in tandem with the Open Innovation 2.0 conference, a major international innovation conference which will be attended by over 300 international experts in the Convention Centre Dublin tomorrow.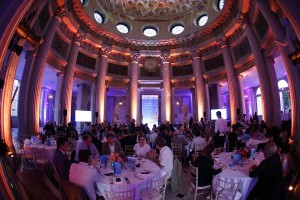 The Academy was initiated with the support and sponsorship of Intel Labs Europe, DG Connect, European Commission, and Dublin City and was established in association with the Innovation Value Institute and the International Society for Professional Innovation Management.
The recipients of this year's awards will be enrolled into the Innovation Luminary Academy and will have stewardship for the selection of future Innovation Luminaires. The recipient Luminaries have been designated by the Open Innovation 2.0 Conference Steering committee for their extraordinary achievements and their potential to inspire the next generation of innovators worldwide.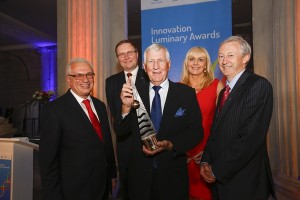 OISPG Chairman and Intel Labs Vice President Prof. Martin Curley said "These awards and the Academy into which these recipients enter will be an inspiration for all who are improving an ever changing world by being creative and innovative. The Irish EU Presidency has provided us with a legacy of and a trajectory for a new generation of Innovation leadership and these awards celebrate that legacy."
Peter Finnegan, Director of Office of Economy and International Relations, Dublin City Council, noted that "It is important to celebrate such innovation achievement, as it sends the right signal to students and researchers, the innovators of the future. It is also a clear declaration of a Europe-wide commitment to champion those who are innovation trailblazers, who can make a real difference to developing sustainable economies."
The 2014 Luminary Award Recipients are:
Innovation Thought Leadership: Richard Straub, The Peter Drucker Society, Europe
Innovation Entrepreneurship: Richard Branson, founder, Virgin
Open Innovation: Henry Chesbrough, UC Berkeley
Social Innovation: Bill Drayton & Ashoka
Innovation Catalyst: Veli-Pekka Niitamo, posthumous
Serial Entrepreneurship: The Ryan Family
Irish Innovation Champion: Louise Phelan, Vice President of Global Operations, Paypal
Special Award for Young Innovation Champion: Kumardev Chatterjee
The Open Innovation 2.0 conference is a collaboration between the OISPG, European Commission, Intel Labs Europe, and Dublin City Council and is fully devoted to inspiring sessions and interaction on OI2 business models and ecosystems. The OI2.0 conference is organised around the concept of short speeches, strong interaction and further development of the ideas, so that the outcome has an impact beyond the event. Leading innovation thought leaders will present their latest insights; European policy leaders will contribute to the design of the European Innovation ecosystems; and the first feedback from the new European research and innovation framework, Horizon 2020, will be presented.
https://limelight.ie/wp-content/uploads/InnovationLuminaryAwards2014-29.jpg
400
600
support@inspiration.ie
https://limelight.ie/wp-content/uploads/2022/02/logo-2022-300x95.png
support@inspiration.ie
2014-06-11 22:00:48
2014-06-11 22:00:48
Leadership in Innovation recognised in Dublin at second annual Luminary Awards