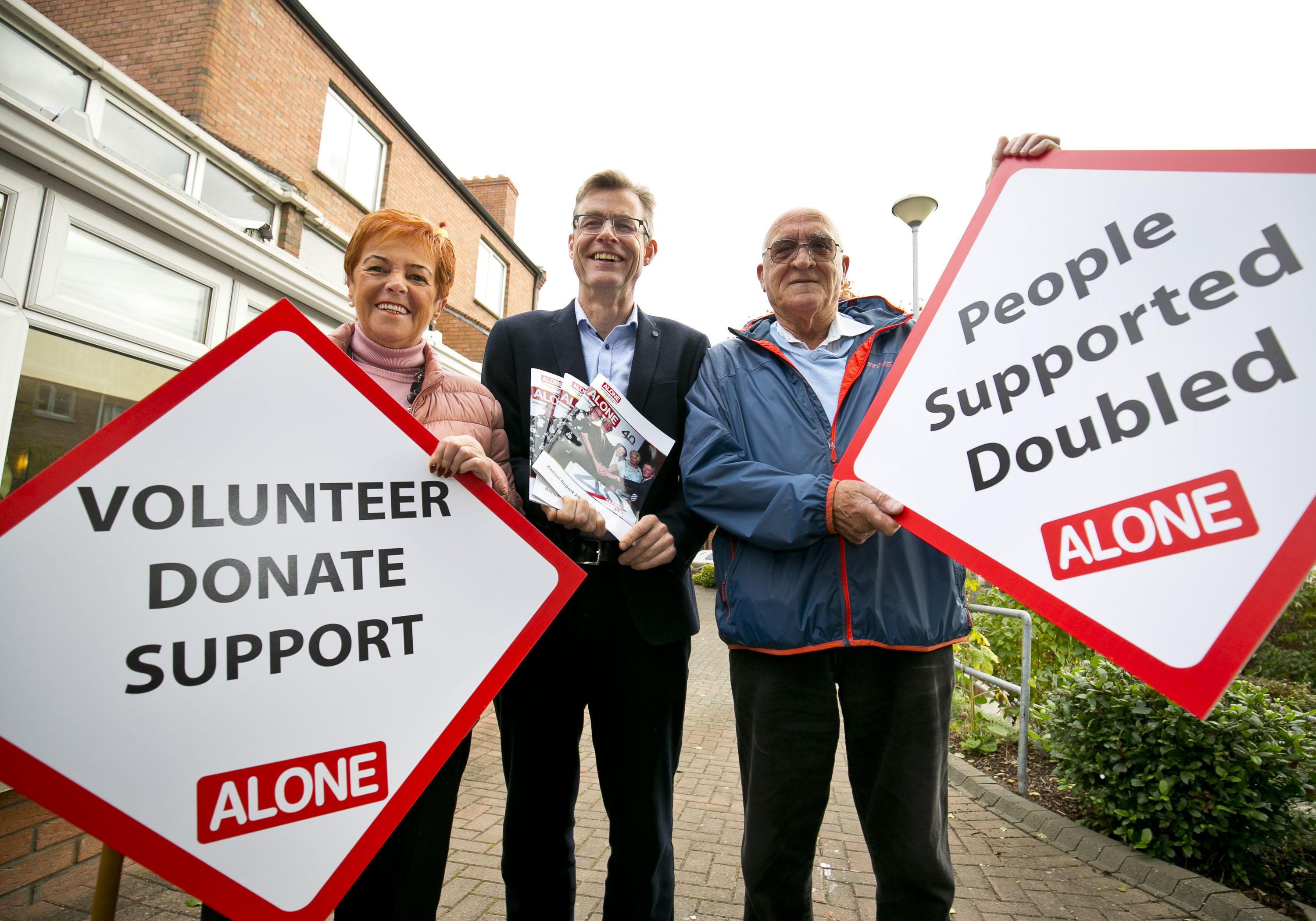 ALONE, the charity that supports older people to age at home, launched its Annual Report today
The report showed a 100% increase in both the number of older people availing of ALONE services and the number of volunteers since 2016. In comparison, only a 15% increase in donations has been reported during the same period.
The number of people supported by ALONE's services to cope with loneliness, poverty, housing difficulties and other issues doubled in 2017 to 1,903. The charity offers help to older people through Support work, Befriending, Housing and BConnect assistive technology.
Seán Moynihan, CEO of ALONE, said, "ALONE achieved a great deal during 2017 and we're proud to have supported twice as many older people. However, the demand for our services is a cause for concern and we expect the number of people we support to double yet again in 2018."
"As a country, we are facing an ageing demographic and ALONE and other agencies are providing essential supports. Many more older people will be experiencing issues such as loneliness or homelessness in the coming years. We need support from the public to increase so that we can continue to meet the demand," he said.
The sizable growth in the demand for ALONE's services echoes Ireland's rapidly changing demographic and the difficulties that continue to be faced by older people across the country. With over 1.2 million people to be aged over 60 in Ireland by 2032, the need for services to support older people will only grow, highlighting the urgency to develop government supports.
Other key findings in the 2017 ALONE Annual Report include:
More than 750 volunteers dedicated their time to ALONE by befriending older people, working in administration, helping with events and in other areas of ALONE's work
Nearly 700 people were supported by the ALONE Befriending Service
ALONE's staff supported 1,146 older people with issues such as housing, finance and loneliness
9 new tenants and 6 people from emergency cases and homelessness received accommodation in ALONE housing
€120,000 was invested to support the growth of other befriending organisations and provide them with training and technology
1,300 hours of volunteer maintenance was donated through 15 corporate volunteer days
Moynihan continued, "This year we were the national winner of the HSE Excellence in Healthcare Award. This was thanks to our volunteers, staff, agencies, the HSE and local communities all working together to improve the quality of life for older people. Our vision is for every older person to have the opportunity to age happily and securely at home. As we continue to grow ALONE supports nationwide, including innovations such as BConnect, we look forward to collaborating with other charities and the government to ensure that the needs of older people are met."
For those who have concerns about their own wellbeing, or the wellbeing of a vulnerable older person in the community, ALONE can be contacted on (01) 679 1032 or at www.alone.ie.
Notes to the Editor
ALONE's 2017 Annual Report can be viewed at: http://alone.ie/wp-content/uploads/2018/10/Annual_Report_2017.pdf 
About ALONE
Established in 1977, ALONE supports older people to age at home. ALONE works with those who have issues with loneliness and social isolation, lack of services, poor health, poverty, homelessness or housing.  ALONE provides Support Coordination, Housing with Support, Befriending and Campaigning services to over 1,000 older people nationwide every week. ALONE's services are quality approved and are delivered 365 days a year.
https://limelight.ie/wp-content/uploads/ALONEAnnualReport07.jpg
2100
3000
support@inspiration.ie
https://limelight.ie/wp-content/uploads/2022/02/logo-2022-300x95.png
support@inspiration.ie
2018-10-23 09:20:01
2018-10-23 09:20:01
ALONE doubles number of older people supported and volunteers, as donations rise just 15%