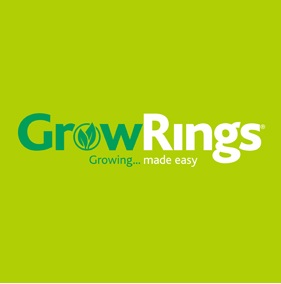 Inventive gardening product from Irish company GrowRings to expand distribution to the US.
GrowRings, an innovative Irish garden product, increases its distribution to the US with a presence at the National Hardware Show in Las Vegas this May. GrowRings is a new concept in gardening, which is designed and created in Ireland, that is set to revolutionise the "Grow it Yourself" sector. The NHS will provide a gateway for the company to establish key partnerships with businesses across the globe, as well as directly with consumers in the US.
Show visitors will get the opportunity to talk to GrowRings experts about the care and maintenance of a garden and how easy it can be with the help of their innovative product. The concept of GrowRings is designed around modern day living, doing away with high maintenance flower displays, or fruit and vegetable patches, to make way for convenience in the garden or other outdoor space.
GrowRings is a very simple concept; the modular, circular design allows the user to have a fit-for-purpose raised garden bed in a matter of minutes. There are no tools necessary – two or more panels (depending on the diameter required) snap together to form a natural circular raised bed 10 inches in height.
David Roberts, Managing Director of GrowRings, commented that "We're developing our strategy to build awareness of our product internationally, as we've had such a strong response from the Irish market to it. We feel very confident taking this next step to bring our innovative product to customers in the US and a number of other countries, as we establish business partnerships to ensure that we have the right distribution to succeed. We're sure that our investment in touring to the National Hardware Show in Las Vegas, and other international trade shows, will pay dividends as customers see the huge benefits of such a convenient garden product that can be used in a variety of ways. We're sure that the American market will welcome our product as quickly as satisfied customers in other countries have done."
GrowRings are for everyone, be it the gardening enthusiast or the gardening novice with absolutely no experience. Growing vegetables, fruit, plants or herbs becomes a simple straight forward process that can be done in the smallest of spaces. Their easy-to-use and assembly method makes it the ideal way to use creativity in any sized outdoor space, from a small apartment balcony to larger gardens. The product was a huge hit with the panel of entrepreneurs when they appeared on Irish reality TV investor programme "Dragon's Den".
The 'Grow It Yourself' sector is becoming increasingly popular as more people seek to improve their health with home grown produce, save money on grocery bills, as well as moving towards reducing their carbon footprint. Growing your own fruit, vegetables and herbs has never been easier with GrowRings.
David Roberts commented on how easy it is to set up a productive garden with GrowRings, "The product's flexibility is one of its greatest strengths. GrowRings can be used anywhere – in the garden, on grass, and on balconies for the city gardener." He continued, "GrowRings are for everyone and can be used to grow most vegetables, herbs and some fruit. You can literally transform an outdoor space in minutes with GrowRings."
For more information, visit www.growrings.ie
https://limelight.ie/wp-content/uploads/GrowRings-logo.jpg
284
281
support@inspiration.ie
https://limelight.ie/wp-content/uploads/2022/02/logo-2022-300x95.png
support@inspiration.ie
2012-04-16 13:23:45
2012-04-16 13:23:45
GrowRings Launches Innovative Gardening Product in Las Vegas