Meet face to face with 1,000 of the best travel experts in the business
Holiday World Show Dublin was officially opened by Mr Jack Chambers TD, Minister of State responsible for International Transport & Travel earlier today.
Taking place at the RDS Simmonscourt from today, Friday 27th January, to Sunday 29th January, Holiday World is the only show where you can meet over 1,000 travel industry professionals from around the globe to plan your perfect holiday and take advantage of great show-only special offers and deals!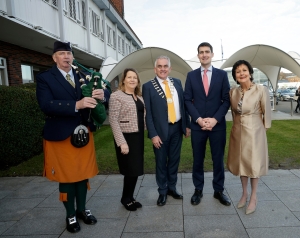 Wander and wonder
The holiday scene has been revolutionized over the past two years with new emphasis on safety and sustainability and new opportunities and a more diverse choice of holiday offerings. For three days the Holiday World Show will transform the RDS Simmonscourt into a holiday world, where you can sample what destinations have to offer from the Americas to Asia, Africa to Europe and Ireland. The Holiday World Show 2023 offers opportunities to connect directly with the largest number of travel experts assembled in one room since before the pandemic. Wander and wonder.
Pat Dawson, CEO of the Irish Travel Agents Association, stated, "Holiday World Show has become a powerful institution for the Irish public and has been missed by many these past three years. It is great to have it back, positively affecting the Irish travel industry and supporting travel agents once more."
Maria Hourican CEO of Holiday World Show, commented, "We are delighted to welcome everyone back to Holiday World Show Dublin.  The array of exhibitors demonstrates just how strong the travel industry is and the appetite amongst the public for travel.  This year's show is returning with the same great holiday deals and show only offers, presenting the public with a great day out."
New for 2023
Abu Dhabi, Kenya and Latvia are among the destinations which are new to the Dublin show for 2023, and Egypt returns to showcase the country on the back of a new direct scheduled flight service to Cairo. Dublin Airport has 14 new routes for summer 2023 and seven more that were introduced last October for the winter season. Ireland's other airports also offer new options: Shannon and Belfast international have five each, Belfast city three, Cork two and Knock one. Highlights include Asturias and Castellon in Spain, Kos in Greece, Brindisi Olbia and Trieste in Italy and Tel Aviv in Israel. Check out: Abu Dhabi Tourism & Culture Authority P1, Greek National Tourism Organisation H11, Israel Government Tourist Office N9, National Tourist Board of Latvia N16, Spanish Tourism Board L7/M8.
Blue is the colour
Experts from exotic places have come to Dublin to brighten up the January blues. The Caribbean and the Pacific islands are offering azure seas, blue skies and white sands and are here to tell us about it. Japan and Taipei are here to give a glimpse of their culture. South America has its own presence. Check out: Oomi Japan / Unique Japan Tours A1, Simply Maldives K11, Barbados Tourism Marketing INC J11, Cuba Tourist Board J12, Jamaica Tourist Board H6, Malta Tourism Authority N17, Mysteries of India P8, Ras Al Khaimah N6, Sunway Holidays K1/K2, Taipei Representative Office in Ireland V3. Embassy of Peru J9.
Choice is back
Most of the world has reopened with safety and sustainability guiding the new travel agenda. Travel to Europe is set to set new records in 2023, opening up parts of the continent that we have not explored. Spain has its usual huge presence with experts on hand to talk about new openings and opportunities, such as the new flights to Asturias in the north and ferry service to Bilbao. Dublin Airport offers over 200 direct fights this summer. Aer Lingus offer 53 European and 16 trans-Atlantic destinations, Ryanair 130 European destinations and there are 41 other airlines offering up to 320 flights a day from Dublin airport. Check out: Cassidy Travel J7/K4, Irish Travel Agents Association N2.
Revenge is sweet
Revenge travel are the buzz words of 2023 and Holiday World Show is the place to find the once in a lifetime trip that you have dreamed about for the last two years. You will find care-free cruises, intrepid adventure breaks and all-inclusive bucket list trips. Cruise companies MSC, Princess and Royal Caribbean, rivercruise company Uniworld and specialist travel agents will be exhibiting at the show, offering visitors expert travel advice and exclusive holiday experiences. Adventure travel is up on pre pandemic levels reflecting the change in holiday needs and expectations. At Holiday World Show you will find luxury agents have a wide range of experiences to offer on all seven continents. Check out: Cassidy Travel J7/K4, Earth Trip P6, JGT Bucket List Expeditions J14, MSC Cruises J13, Princess Cruises H13 & L3/M3, Royal Caribbean International N1, Sunway Holidays K1/K2, Uniworld Boutique River Cruises H14, Wendy Wu Tours K8.
Keeping close to home
The rediscovery and reinvention of our childhood holiday destinations over the past two years has revolutionised the home holiday scene. In the emerald isle dedicated aisles of the DiscoverIreland Home Holiday Pavilion you will find the quirky and the quaint, old favourites, novelties and frivolities. Check out: Extensive home holiday exhibition area with 50 exhibitors from across the island, Mayo the Adventure Capital S14/T17, Sligo Oyster Experience U4/U5, Visit Cork Attractions T18/U22. And under the Tourism NI banner – Tourism NI S9, Visit Belfast R11.
Stars and stripes ever brighter
The 2023 Visit USA Pavilion introduces Irish holidaymakers to travel professionals from right across the US and take advantage of fantastic show-only deals. Aer Lingus's transatlantic schedule is back to pre-pandemic levels with the introduction of a new route to Cleveland, bringing their trans Atlantic offering to 16 routes, and increased capacity on routes such as Los Angeles, with three routes each from Air Canada, American Delta and United. Check out: Amelia Island – Florida H5, Bradley International Airport H1, Florida Keys & Key West J2, Louisiana Office of Tourism K3, Explore St Louis, New Jersey Tourism H3, New York State of Tourism H2, Philadelphia H3, Visit USA L1.
Spain
The largest exhibitors at the Holiday World Show, Spain will be one of this year's biggest attractions with more than two million visits from Ireland. There is lots of news, extra capacity to Malaga, new developments on the beaches of Salou, Murcia, the Canaries and Balearics, a new ferry to Bilbao and new air routes to open up northern Spain. Check out: Spanish Tourism Board and partners L7/M8.
Portugal.
The Algarve, Ireland's favourite destination in Portugal will see an increase of 20pc in access flights in 2023. There is also increased reach to the beautiful island of Madeira and the hinterlands of Lisbon and Porto. Check out: Portuguese Tourism and partners L5/M6.
Cruises
Cruising continues to grow in 2023 with bigger and more luxurious ships set to launch. MSC Cruises has two new ships, MSC Euribia in June and the launch of a new luxury category, the 922 passenger Explora 1. There are cruises for all tastes and budgets, ships of all sizes and prices Check out: MSC Cruises J13, Princess Cruises H13 & L3/M3, Royal Caribbean International N1, Uniworld Boutique River Cruises H14.
Brightest Africa.
New transfer options to Africa have opened up in the past twelve months. South Africa and the Cape remain favourites with Irish honeymooners and holiday makers alike and there are lots of alternatives to talk about. Check out: Malawi High Commission K10, South African Tourism K9, Embassy of the Republic of Kenya J10.
The plein air
Camping is not about erecting tents or feeling tense, it is a luxury offering in its own right with all the mod cons, ziplines and water slides on site, a choice for every budget and a World Cup in September for France-lovers. Check out: Irish Ferries N8, Camping Le Pavillon Royal P3, Camping Village de la Guyonniere Q4, Campings Region of Valencia L7/M8, Castel Camping La Garangeoire N3, Charles Camping CM18, Downshire Camping & Caravans CM17, La Sirene Camping Clubs P4, Le Pin Parasol Camping Q4, Les Castels Camping N3, Nore Valley Park Camping & Pet Farm CM2, O'Meara Camping Ireland CM15.
Sustainability
Today's tourist is more aware of the damage that tourism can do as well as the good it can bring, so it is important to source and evaluate the best information. Check out: Earth Trip P6, Green Spain L7/M8, Irish Ferries N8, Portuguese Tourism and partners L5/M6, Spanish Tourism Board and partners L7/M8.
Weddings & Honeymoons
As couples work through the post Covid weddings bottleneck, Holiday World Show has a wide choice of wedding and honeymoon venues. Check out: Cassidy Travel J7/K4, Earth Trip P6, JGT Bucket List Expeditions J14, Magic Vacations L2, Malta Tourism Authority N17, Princesa Yaiza Suite Hotel Resort P11, Sunway Holidays K1/K2, Simply Maldives  K11.
Overseas Properties
Want to make your holiday more permanent? Find your ideal overseas property at Holiday World Show. Get advice from expert travel professionals. Check out: LCP Spain R8, Your Dream Home R5/S3, Costa del Sol Living R7.
A Seat in the Stand
The sports fan has lots to look forward to in 2023 with World Cups in rugby for men in France and in soccer for women in Australia, and exciting journeys ahead for the Irish provinces. Check out: Cassidy Travel J7/K4, Etihad Airways P1, Manchester City Football Club Q11, Sports Travel International P5.
The Paperwork
Get your head around those fussy travel and visa requirements, Check out: Passport Services & Consular Directorate Q17/R18.
Show Times & Location
Holiday World Show 2023 takes place in the RDS, Simmonscourt, Ballsbridge, Dublin 4 and will be open from 12.30pm – 5.30pm on Friday 27th and 11am – 5:30pm on Saturday 28th and Sunday 29th of January. Aside from our magnificent exhibitors, for our younger visitors there is a free children's entertainment zone. Visitors to the show will have the opportunity to discuss and book their holidays with travel experts and will be in with a chance to win one of many prizes on offer throughout the three-day event.
https://limelight.ie/wp-content/uploads/2023/02/Holoiday-World-Extras-002.jpg
800
1200
Limelight Comunications
https://limelight.ie/wp-content/uploads/2022/02/logo-2022-300x95.png
Limelight Comunications
2023-01-27 14:31:31
2023-02-09 16:23:43
Holiday World Show 2023 opens today at the RDS Dublin