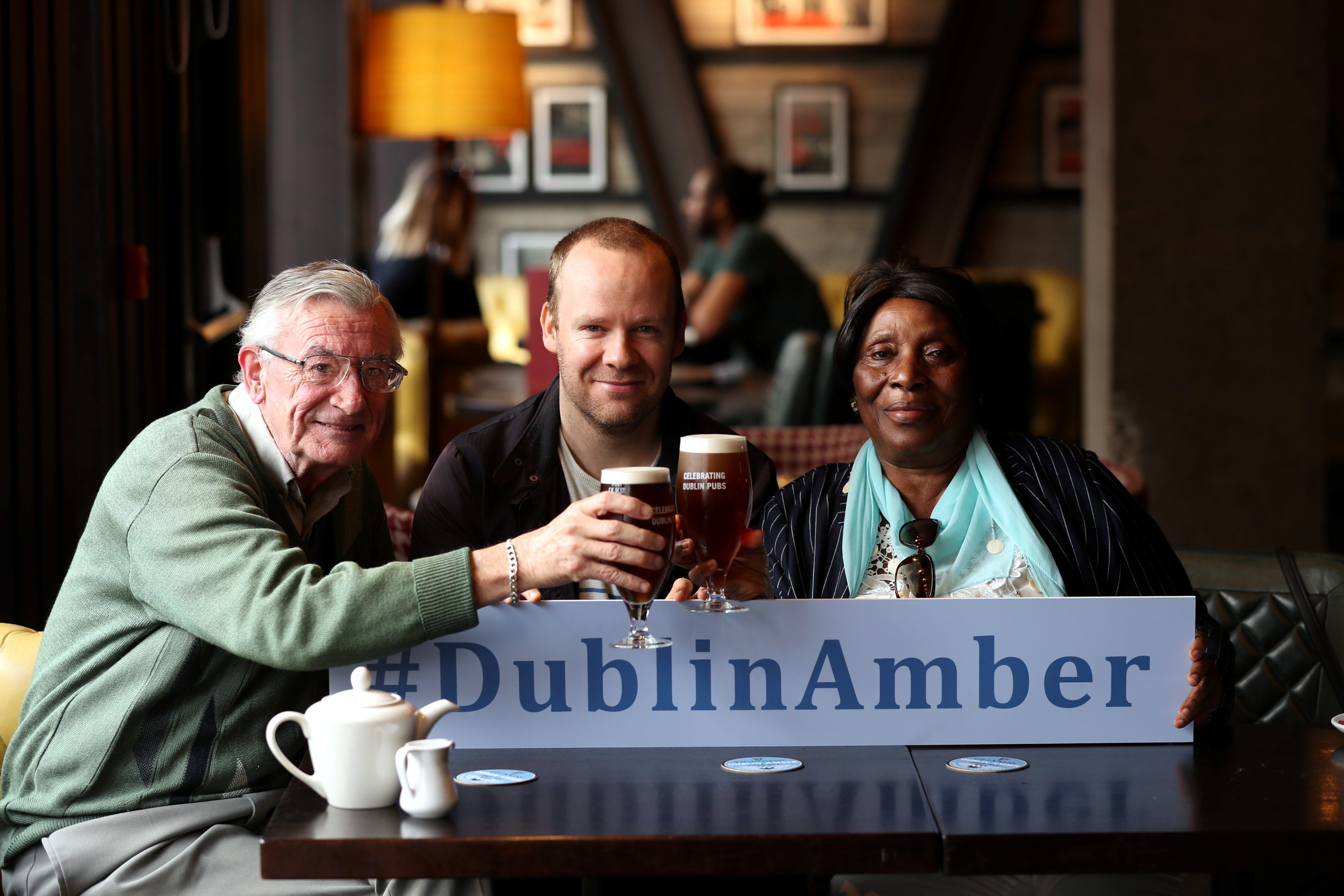 Charity initiative by Dublin Pubs aims to raise €200,000 for older people
Comedian Neil Delamere is calling on people throughout Dublin to gather their friends and head to their local pub next week in support of ALONE, the charity that supports older people to age at home. Dublin Amber Friendship Week, a community initiative of the Licensed Vintners Association (LVA), will take place in over 300 pubs in Dublin from Sunday 24th to Saturday 30th September 2017.
The LVA, which represents 600 Dublin publicans, has raised €100,000 for ALONE so far this year and hope to raise significant funds through Dublin Amber Friendship Week. To support the initiative, Guinness has brewed a limited edition beer, Dublin Amber Pale Ale. A joint donation of fifty cent for each pint of Dublin Amber sold in participating pubs will be made to ALONE by Guinness and the publican to support the expansion of its Befriending Service which provides companionship to older people who are socially isolated through a weekly volunteer visit. There will also be ALONE collection buckets in a number of participating pubs throughout the week.
Neil Delamere, speaking at the launch in Dublin today, said, "I am delighted to be here in Lemon & Duke to launch Dublin Amber Friendship Week on behalf of ALONE. It's a great excuse to head down to the local with your friends, have a pint and raise money for a great cause."
John Gleeson, Chairman of the LVA, explained how the LVA partnership with ALONE came about, "Last year, when we were discussing what charity to support during our bicentenary year, we came across Neil discussing ALONE's Christmas campaign on 'Brendan O'Connor's Cutting Edge' and it really struck a chord with us."
He continued, "Given that Dublin Amber has only been available for a couple of months, we are delighted with the funds raised so far and will be relying on the public to help us reach our ambitious target of €200,000 by the end of our bicentenary year of 2017."
Sean Moynihan, CEO of ALONE, commented, "We would like to thank Neil and Dublin's publicans for supporting ALONE and Dublin Amber Friendship Week. With this campaign we hope to raise vital funds for ALONE's Befriending Service. Together, we are working so that no older person is left without friendship and support."
Dublin Amber is available on draught in hundreds of pubs across Dublin for a limited time.
For more information on Dublin Amber Friendship Week and participating pubs please follow @LVADublinPubs on Twitter or visit www.facebook.com/LicensedVintnersAssociation Post images and follow the conversation at #DublinAmber
https://limelight.ie/wp-content/uploads/Alone1.jpg
2860
4288
support@inspiration.ie
https://limelight.ie/wp-content/uploads/2022/02/logo-2022-300x95.png
support@inspiration.ie
2017-09-18 16:26:38
2017-09-18 16:26:38
Neil Delamere launches 'Dublin Amber Friendship Week' in aid of ALONE