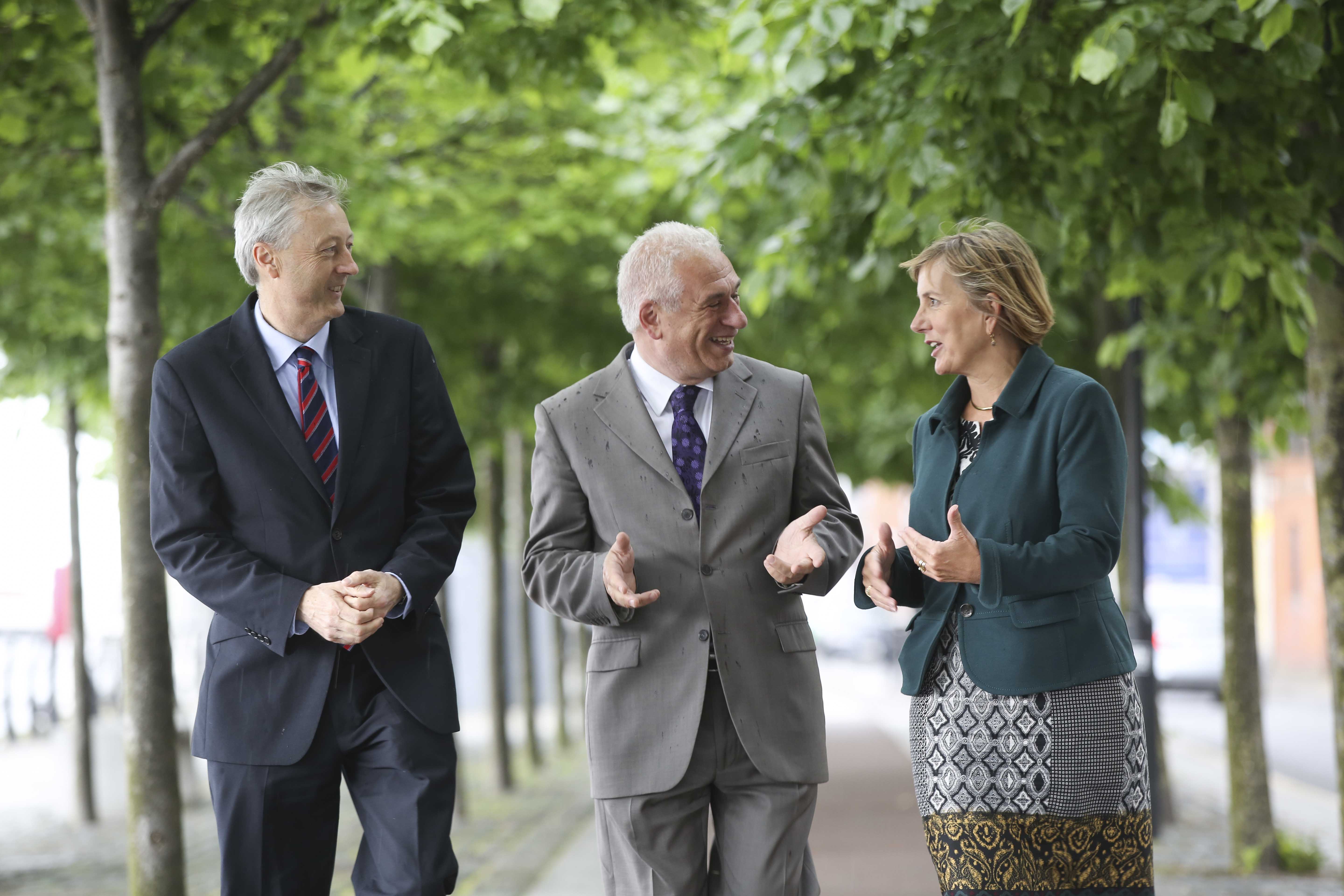 Major conference welcomed international innovation experts to Dublin
The global thought leadership conference Open Innovation 2.0, recently hosted at the Convention Centre Dublin, has resulted in the establishment of a model for broad European adoption of the Dublin Innovation Declaration. The document, announced at the inaugural event in 2013, saw high-level decision makers, leading innovation experts and entrepreneurial practitioners from across the globe co-create a document to pave the way for future innovation policies. The Declaration also has identified actions to increase prosperity and wealth and to create more jobs and growth in Europe.
The 2014 Open Innovation Conference reinforced the approach of the Dublin Innovation Declaration, with the European innovation experts identifying it as a framework for the adoption of innovation policies across Europe.
The conference, an inspiring one and a half day event with the Innovation Luminary Award ceremony, encouraged practical innovation adoption with the aim of improving society as a whole.  The 2014 conference solidified and progressed the solutions agreed upon at the 2013 conference, and discussed new approaches in innovation adoption based on open business models. This major international innovation conference brought together over 300 innovation experts to Dublin, which is seen as one of the thought-leader cities in international innovation policy. Key speakers at the conference included Mark Kleinman from the Greater London Authority; Antti Peltomäki from the European Commission; Henry Chesbrough from UC Berkeley, Richard Straub from Peter Drucker Forum, and Dan Marom from The Crowdfunding Revolution.
Martin Curley Vice President, and Director Intel Labs Europe (ILE) commented on the positive response from delegates "As a key partner bringing the event to Dublin, it's very gratifying to have such positive feedback and contributions from our expert panels, speakers and delegates. We have very much cemented the positive results from the 2013 conference, and we look forward to continuing to work to encourage adoption of Open Innovation policies internationally. This is crucial for the continued recovery of Europe."
Peter Finnegan from Dublin City Council highlighted the importance of the conference and of the Dublin Declaration: "Bringing innovation into the open and out of the closet has already paid dividends for Dublin and positioned the city as a thought-leader in innovation policies. A good example is the sensor network being deployed by agreement in Dublin with Intel that will enable co-innovation around environmental quality and citizen engagement. It was a pleasure to be able to update international colleagues on developments Dublin is making, and to have the Dublin Innovation Declaration recognised as a strong model."
Bror Salmelin, Advisor for Innovation Systems at European Commission, Directorate-General Communications Networks, Contents and Technology, commented "The European economy is showing its first promising signs of recovery, and the conference has shown us that an accelerated recovery can be achieved with a stronger open innovation approach boosting job creation, driving a better entrepreneurial environment and delivering innovations for global challenges. The gathering of so many prominent experts at the Open Innovation 2.0 Conference in Dublin has provided much food for thought and many concrete actions which we are certain will help drive adoption new win-win drive for all stakeholders in the quadruple helix innovation spirit".
At the heart of the conference was the fact that the challenges faced today in Europe and beyond are too large to tackle in isolation. Issues such as healthcare challenges, transportation, climate change, youth unemployment, financial stability, prosperity, sustainability and growth are where a dynamic new kind of approach is needed to solve these complex problems. Open Innovation 2.0 is a new way of coming up with solutions that will work at a local, national and international level, ensuring all sectors of society are involved.
Open Innovation 2.0 Conference was brought to Dublin in collaboration with the European Commission, Open Innovation Strategyand Policy Group, Intel Labs Europe and Dublin City Council.
ENDS
https://limelight.ie/wp-content/uploads/Innovation2.0-8.jpg
3840
5760
support@inspiration.ie
https://limelight.ie/wp-content/uploads/2022/02/logo-2022-300x95.png
support@inspiration.ie
2014-07-01 17:09:55
2014-07-01 17:09:55
Open Innovation 2.0 conference establishes framework for European adoption of Dublin Declaration