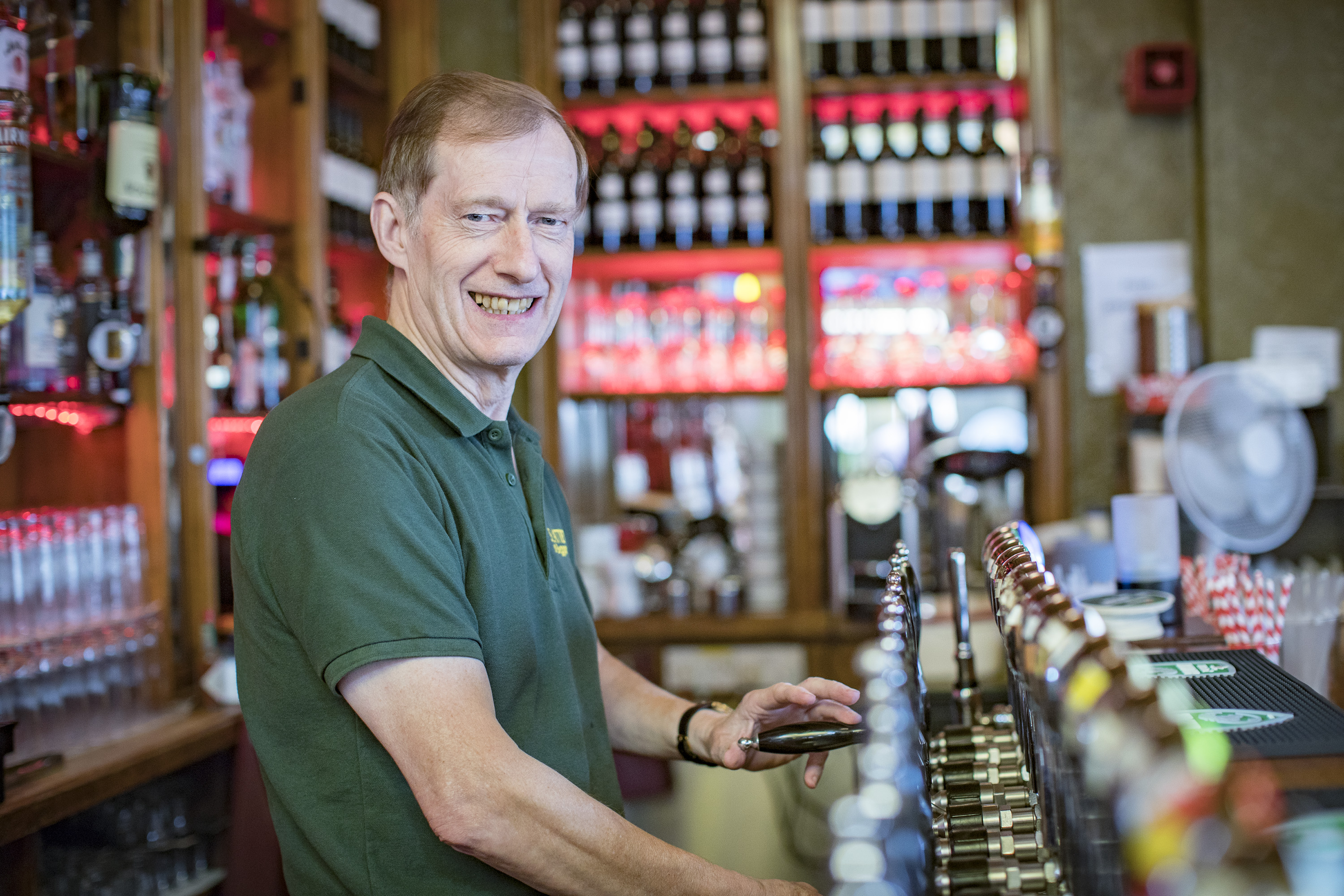 Slattery's Pub, situated on Grand Canal Street Upper, Beggars Bush, officially boasts the Best Bar Person in Ireland – and worldwide. Veteran barman, Pat Dempsey, was crowned by the Irish Pubs Global Awards in Galway on Tuesday evening.
Pat Dempsey has been serving smiles and pints in Slattery's for close to 30 years and has been a purveyor of perfect pints in the Beggars Bush area for even longer. A fountain of wisdom and experience, we are sure every barman who has passed through Slattery's doors would tell you they have learned at least one invaluable lesson from Pat.
With plenty of match day experience, Pat is no stranger to pressure and always keeps a cool head and the pints flowing. For a number of years, he has been responsible for running the pub's upstairs bar during events and has played a huge role in Slattery's becoming known for the place to be for pints before the game.
Irial Slattery, proprietor of Slattery's said, "Known on a first name basis by the majority of our clientele and regarded as a local legend in the area, Pat is even registered on the till system as 'The Legend'. As Pat looks forward to retiring later this year, it's safe to say Slattery's just won't be the same place without him."
Slattery's were finalists and highly commended for several awards in this year's Irish Pubs Global Awards, including Best Marketing Campaign, Best Sports Experience and Best Irish Pub. Hosted in the Galmont Hotel in Galway, the best of Irish Pubs around the world were represented, with entrants from North America, Europe, Asia and Australia to mention a few.
Slattery's Pub would like to extend their sincerest gratitude to all those who voted for Slattery's, and continue to support them as they endeavour to be the best pub in Ireland to share a drink and a good time!
ENDS
https://limelight.ie/wp-content/uploads/Slatterys-Pub-Pat-Dempsey.jpg
2000
3000
support@inspiration.ie
https://limelight.ie/wp-content/uploads/2022/02/logo-2022-300x95.png
support@inspiration.ie
2018-10-10 12:22:00
2018-10-10 12:22:00
Slattery's Pub veteran, Pat Dempsey, crowned Global Bar Person of the Year at the Irish Pubs Global Awards