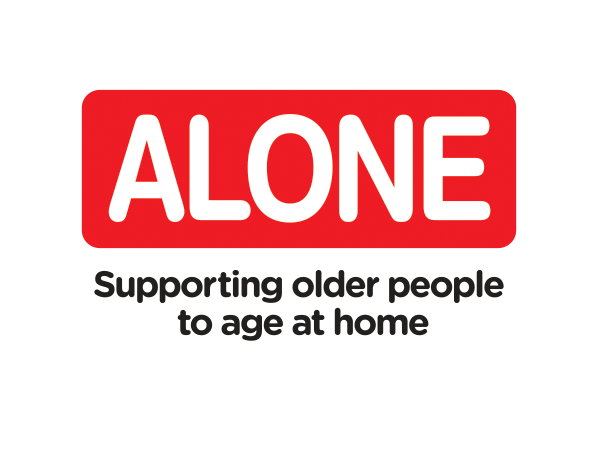 Charity call on government to extend Fair Deal Scheme to Home Care Packages
ALONE, the charity that supports older people to age at home, is calling on the government to make homecare a legal right, ensuring that all older people are supported to age in the community.
Sean Moynihan, CEO of ALONE, commented, "The principle of ageing at home, and having the right and ability to do so, has been government policy since the 1970s. It has cross-party support, it's in the programme for government and it was in every political party's 2016 general election manifesto.
Despite the stated intention to support people staying in their homes, there is no legal right to home care in Ireland. In the Fair Deal Scheme if you are assessed for a nursing home place and deemed to qualify, the state is legally obliged to ensure you get a bed.  If you are assessed for home care, it may be decided that you need eight hours a week but you will only get whatever the resources will allow which could be 2 hours a week."
Repeated studies have demonstrated that ageing at home is the first choice of older people and their families. A 2016 study found that over 50% of older people awaiting, or sent to, long term care (nursing homes) from hospital wished to remain at home and could have done so.  Home help hours are proven to be a much more cost effective and person-centred way of supporting people with medium support needs to age at home rather than moving them into the nursing home system.
Fine Gael's 2016 manifesto promised 12.6 million annual home help hours. However, in reality this figure was at less than 10.5 million hours. Therefore, there was no increase on 2015 figures. Overall, approximately 1.3 million home help hours have been cut since 2010. In that time, the number of older people in the state has increased by 18%.
ALONE believes that investing in home care packages is a major part of solving the hospital trolley crisis and overcrowding in emergency departments, as older people are being forced to remain in acute hospital beds due to lack of supports to go home.
Moynihan commented, "Older people made up 81% of all delayed discharges in the most recent figures from the HSE (August 2016). Delayed discharge is linked to a lack of access to long term care facilities and organisation of community supports. The older person may be medically ready to leave the hospital but are unable to as the necessary care, support or accommodation is not readily available. A home care package would only cost around €400 a week while keeping an older person in hospital, taking up an acute bed, can cost up to €7,000 a week."
Moynihan concluded, "Nursing Homes play a key role in the care of the very old with high support needs. However, with Ireland's older population set to reach 1.4 million over the next 30 years, the state's statutory obligation to provide long-term residential care must be extended to community care. The provision of quality home care packages for older people is a necessity."
For those who have concerns about their own wellbeing, or the wellbeing of a vulnerable older person in their community, ALONE can be contacted on (01) 679 1032 or visit www.alone.ie
https://limelight.ie/wp-content/uploads/Untitled-3.png
453
600
support@inspiration.ie
https://limelight.ie/wp-content/uploads/2022/02/logo-2022-300x95.png
support@inspiration.ie
2017-01-16 16:14:49
2017-01-16 16:14:49
ALONE – The provision of quality home care packages for older people is a necessity