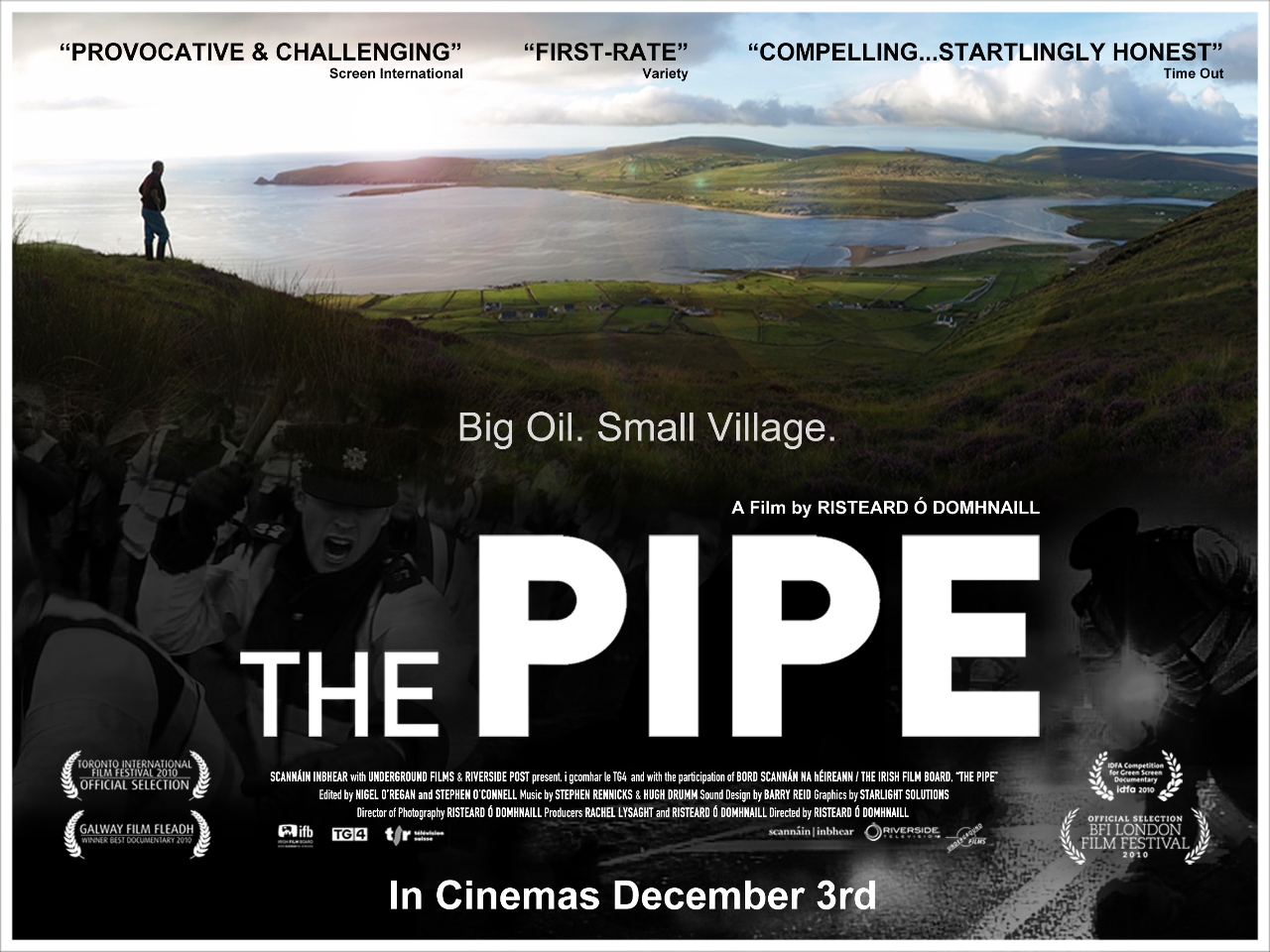 The Pipe, Risteard Ó Domhnaill's documentary film focusing on the Shell to Sea saga, has sold out all three of its public screenings at the prestigious BFI London Film Festival, where it received a standing ovation on Friday night. Director Risteard Ó Domhnaill was joined at this screening by producer Rachel Lysaght, and four local residents from County Mayo featured in the film: Willie and Mary Corduff, John Monaghan and Pat O'Donnell. The screenings took place on Friday, Saturday and today at the BFI South Bank, coincidentally only a few hundred yards from Shell UK's head office.
The Pipe is an in-depth look at the divisions, family and community tensions, and the environmental questions raised by the controversial Corrib pipeline. It features a group of locals from Mayo who declined to allow Shell lay pipeline across their land – with the rebellious group then becoming known in media and public circles as the Rossport Five – and finding themselves in a tussle not only with the petroleum giant but also with the Gardaí. The film was shot from late 2006 over a four year period. In the most dramatic clash of cultures in modern Ireland, the rights of farmers over their fields, and of fishermen to their fishing grounds, has come in direct conflict with one of the world's most powerful oil companies. Ultimately, The Pipe serves as an inspiring tribute to the brave men and women fighting for their rights as they stand up to a corporate giant.
Speaking from the London Film Festival, director Risteard Ó Domhnaill commented "The more we travel with this film, the more we are becoming aware of how universal the story and themes are – this is not solely a story about the Corrib gas line, but about family ties; small local communities at war with each other; and the astonishing determination of the ordinary person faced with a seemingly insurmountable obstacle. The response in London has been phenomenal – we can't wait for the Irish public to see this film, and we're planning on touring the film around more festivals worldwide."
Producer Rachel Lysaght said "It's so gratifying to have such an overwhelming reaction away from home for this film, and for the characters involved. We feel it's very much a testament to the spirit of those involved that their story resonates internationally."
The film has picked up 'Best Documentary' at the Galway Film Fleadh, recently screened to great acclaim at the Toronto Film Festival, and will next be seen at the Cork Film Festival in advance of its national release on December 3rd. This will be preceded by a preview screening of the film at the IFI Cinemas, Dublin, on December 2nd, at which the filmmakers and those featured in the film will be in attendance, and will take questions from the audience. It is hoped that representatives from all sides of the dispute will be in attendance at this screening.
https://limelight.ie/wp-content/uploads/New-Image.jpg
960
1280
support@inspiration.ie
https://limelight.ie/wp-content/uploads/2022/02/logo-2022-300x95.png
support@inspiration.ie
2010-10-25 20:50:36
2010-10-25 20:50:36
London Success for Award Winning Irish Documentary 'The Pipe'