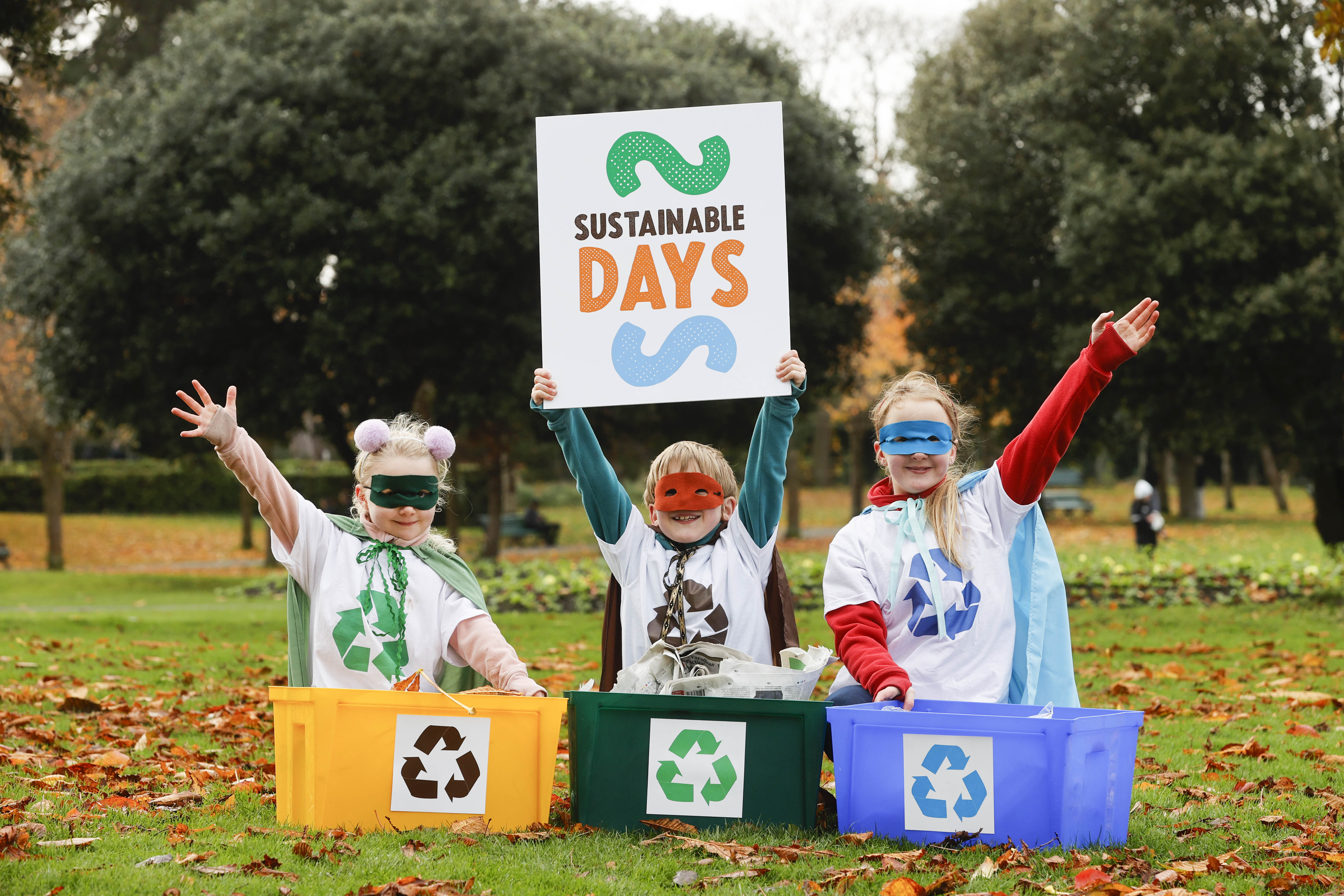 Dublin City Council proudly presents a new online event that will show participants how to live a greener lifestyle from the safety of their own homes. Sustainable Days, a FREE family event, takes place online on Saturday 28th and Sunday 29th of November from 10:30am each day. Sustainable Days aims to inspire, inform and educate participants about the sustainability movement through constructive play, entertaining talks and activities. Attendees will learn how they can make a difference to the world we live in with subtle, everyday changes to their lives.
For the event, Sustainable Days have teamed up with the Rediscovery Centre, a creative movement connecting people, ideas and resources to support greener low-carbon living. The Rediscovery Centre will be on hand over the weekend to give a deeper understanding of the scientific side of climate actions through demonstrations in biodiversity, science, space, engineering and waste.
The main aim of Sustainable Days is to examine the three pillars of sustainability across economic, social and environmental principles, to deepen our knowledge on "how to be more 'Green'". The event will feature a wide range of games and activities relating to the idea of sustainability and greener living, and will be shown throughout the weekend on the Sustainable Days Website, Facebook and Instagram. As well as fantastic activities, viewers will have the opportunity to participate in various sustainability workshops, panel discussions and talks, hosted by our wonderful partners the Rediscovery Centre, CODEMA, MyWaste.ie, Explore Your Shore, Climate Queens Podcast, Bat Conservation Ireland, Leave No Trace, Sustainable Energy Authority Ireland, Pollinators Ireland, OPW, ECO UNESCO, Smart Dublin and DCU.
The idea of 'sustainability' has gained traction in recent years, with many people already working to be more eco-conscious in their everyday lives. Sustainable Days strives to support this movement, keeping sustainable actions top of mind. Sustainable Days will support the objectives and aspirations of Dublin City Council's Climate Change Action Plan 2019-2024 which features a range of actions across five key areas which include: Energy and Buildings; Transport; Flood Resilience; Nature-Based Solutions; and Resource Management.
Speaking of the event, Lord Mayor of Dublin, Hazel Chu stated, "Sustainable Days is a fantastic opportunity to spread awareness of environmental issues and educate the wider public on simple steps they can take every day to live a more sustainable, greener lifestyle. It is so important for future generations in Dublin City and Ireland as a whole to educate children on how to live a more eco-conscious life.
The Lord Mayor continued, "Sustainable Days is a direct reaction to Ireland's classification of being in a climate emergency last May 2019, with Dublin City Council's Climate Change Action Plan 2019-2024 complimenting this. Dublin's climate is changing and in the best interests of the people of Dublin, we need to make substantial modifications to our city and lives, to ensure we fulfil our promise in creating a brighter future for the future generations."
Sustainable Days organiser, Kathryn Byrne, commented, "We are delighted that Sustainable Days can now go ahead as virtual event to promote and encourage eco-awareness across the country after being postponed from earlier this year due to COVID-19. Given that it is now virtual, it is open to so many more people from across Ireland to participate."
Dr Sarah Miller, Chief Executive of the Rediscovery Centre stated, "Our aim at The Rediscovery Centre is to connect people through the common purpose of sustainability. We are very excited to be part of this wonderful event to share our ideas, resources and tips on how to live a greener, low-carbon lifestyle. We have collaborated with artists, scientists, designers and craftspeople to bring a wide range of informative and enjoyable activities to Sustainable Days. Don't miss out!"
Sustainable Days is brought to you by Dublin City Council and Dublin City Council Events Section, supported by The Rediscovery Centre and organised by Limelight Communications.
https://limelight.ie/wp-content/uploads/CMC9602-103.jpg
3648
5472
support@inspiration.ie
https://limelight.ie/wp-content/uploads/2022/02/logo-2022-300x95.png
support@inspiration.ie
2020-11-27 11:01:38
2020-11-27 11:01:38
Dublin City Council presents 'Sustainable Days', an ONLINE event promoting sustainability and greener living