STUDIOCANAL PARTNERS WITH FOCUS FEATURES &
MONUMENTAL PICTURES ON
BACK TO BLACK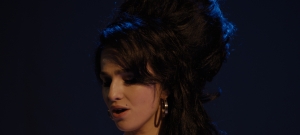 SAM TAYLOR-JOHNSON SET TO DIRECT
MARISA ABELA
TO STAR IN THE FEATURE FILM ON THE LIFE AND MUSIC OF
AMY WINEHOUSE
PRINCIPAL PHOTOGRAPHY WILL COMMENCE ON JANUARY 16TH
First look image: https://we.tl/t-yF2X1ImHpF
STUDIOCANAL, Focus Features and Monumental Pictures announced today they will partner on BACK TO BLACK, the highly anticipated feature film about Amy Winehouse's vibrant years living in London in the early aughts and her intense journey to fame. Acclaimed filmmaker and visual artist Sam Taylor-Johnson will direct and executive produce the film, with break-out star Marisa Abela (INDUSTRY) landing the coveted lead role. Focus will distribute BACK TO BLACK in the U.S., with Universal Pictures International handling international distribution, excluding the UK, France, Germany, Aus/NZ, Benelux, Scandinavia, and Poland which will be handled by STUDIOCANAL. Filming is set to begin on Monday, January 16th in London.
The deal was closed by Anne Cherel, Aska Yamaguchi and Sophie Leuthreau for STUDIOCANAL and Howard Meyers and Marin Babb for Focus Features.
BACK TO BLACK was written by Matt Greenhalgh, reuniting the scribe with Taylor-Johnson following their collaboration on Nowhere Boy in 2009.  Featuring many of Amy's hit songs, BACK TO BLACK has the full support of Universal Music Group, Sony Music Publishing and The Amy Winehouse Estate.
Alison Owen (Saving Mr Banks, Me Before You, Elizabeth), Debra Hayward (Les Miserables, Bridget Jones's Baby) of Monumental Pictures are producing, Nicky Kentish-Barnes (What's Love Got To Do With it?, Everest) executive produces, with Nina Gold leading the casting of the film. EVP Global Production Ron Halpern and SVP Global Production Joe Naftalin executive produce and are overseeing for STUDIOCANAL.
Amy Winehouse is widely considered one of the greatest artists in recent history, selling more than 30 million records worldwide, and today generating more than 80 million streams per month. Her acclaimed produced 2006 album Back To Black, propelled her to global stardom, going on to win a (then) record breaking 5 Grammy Awards, including Record Of The Year and Song of The Year for hit single Rehab. BACK TO BLACK will focus on Amy's extraordinary genius, creativity and honesty that infused everything she did. A journey that took her from the craziness and colour of 90's Camden High Street to global adoration – and back again, BACK TO BLACK crashes through the looking glass of celebrity to watch this journey from behind the mirror, to see what Amy saw, to feel what she felt.
Director Sam Taylor-Johnson comments: "My connection to Amy began when I left college and was hanging out in the creatively diverse London borough of Camden. I got a job at the legendary KOKO CLUB, and I can still breathe every market stall, vintage shop and street… A few years later Amy wrote her searingly honest songs whilst living in Camden. Like with me, it became part of her DNA. I first saw her perform at a talent show at Ronnie Scott's Jazz Club in Soho and it was immediately obvious she wasn't just 'talent'… she was genius. As a filmmaker you can't really ask for more. I feel excited and humbled to have this opportunity to realise Amy's beautifully unique and tragic story to cinema accompanied by the most important part of her legacy – her music. I am fully aware of the responsibility, with my writing collaborator – Matt Greenhalgh – I will create a movie that we will all love and cherish forever. Just like we do Amy."
Producer Alison Owen expands: "Amy Winehouse is the greatest musical talent of the 21st century so far. But like so many female icons, the tragedy of her death has seemed to obscure the triumph of her talent…the fun of the noughties, the craziness of Camden, her youth and brilliance – we want to reclaim that for her, with this film."
The Amy Winehouse Estate added: "We are thrilled that STUDIOCANAL, Focus Features and Monumental are making this movie celebrating our daughter Amy's extraordinary music legacy and showcasing her talent in the way that it deserves."
Said Kiska Higgs, President of Production & Acquisitions at Focus, "In Sam Taylor-Johnson's exquisitely moving portrait of an artist, the genius, the heart, the energy and the woman behind the icon we all know as Amy Winehouse promise to shine through as she deserves.  We can't wait to travel through Amy's world and hear her voice through the wonderful Marisa Abela, and are looking forward to reuniting with Sam and our friends at Monumental and STUDIOCANAL."
STUDIOCANAL EVP Global Production Ron Halpern and SVP Global Production Joe Naftalin conclude: "It is our enormous pleasure and privilege to produce and bring this movie to audiences. We are incredibly grateful to our partners at The Amy Winehouse Estate, Universal Music Group and Sony Music Publishing to have the opportunity to tell Amy Winehouse's story with the use of her extraordinary music – to our partners at Focus Features – and to our amazing director, Sam Taylor-Johnson, and star Marisa Abela, who we are so excited to be working with. Amy Winehouse was a once in a generation talent – and with our producing partners at Monumental Pictures, we will endeavour to do her proud with this movie – and create a music-driven event picture for audiences new and old, that will make us all laugh, cry – and to truly celebrate Amy and her genius."
Multi prize-winning visual artist and filmmaker Taylor-Johnson helmed the 2015 blockbuster Fifty Shades of Grey starring Dakota Johnson and Jamie Dornan. Her additional credits include the acclaimed John Lennon biopic Nowhere Boy and A Million Little Pieces both starring Aaron Taylor-Johnson.  She is represented by CAA, Brillstein Entertainment Partners, Sloane, Offer, Weber, Dern (attorney) and Shelter PR.
Greenhalgh is an award-winning screenwriter best known for Control about Joy Division frontman Ian Curtis, Nowhere Boy about John Lennon's younger years. He was BAFTA nominated in 2018 for Film Stars Don't Die in Liverpool.
Marisa Abela is represented by WME, The Artists Partnership, Shelter PR.
Abela most recently starred in the second season of the hit hedonistic banking drama, "Industry" from HBO and BBC Two. Her breakout leading role as publishing heiress-turned-investment banker, Yasmin Kara-Hanani, has garnered praise from audiences and critics alike, with Variety calling attention to her "scene-stealing" sensibilities. The critically acclaimed series has been renewed for a third season. She has wrapped production on the Warner Bros. live-action film adaptation from director Greta Gerwig, "Barbie," opposite Margot Robbie and Ryan Gosling.
This follows her captivating role in the IFC Films and AMC+ espionage thriller, "Rogue Agent," alongside James Norton and Gemma Arterton. Prior to this success, Abela starred in the improvisational romance from writer and director Jamie Adams, "She Is Love," opposite Haley Bennett and Sam Riley. She first made her television debut in the action series, "Cobra." Abela is a graduate of the highly acclaimed Royal Academy of Dramatic Art (RADA) in London, where she still resides.
ENDS
**
https://limelight.ie/wp-content/uploads/2023/01/FIRST-LOOK-BACK-TO-BLACK-FINAL-scaled.jpg
1153
2560
Limelight Comunications
https://limelight.ie/wp-content/uploads/2022/02/logo-2022-300x95.png
Limelight Comunications
2023-01-13 17:00:38
2023-01-13 17:00:38
STUDIOCANAL PARTNERS WITH FOCUS FEATURES & MONUMENTAL PICTURES ON "BACK TO BLACK", SAM TAYLOR-JOHNSON SET TO DIRECT