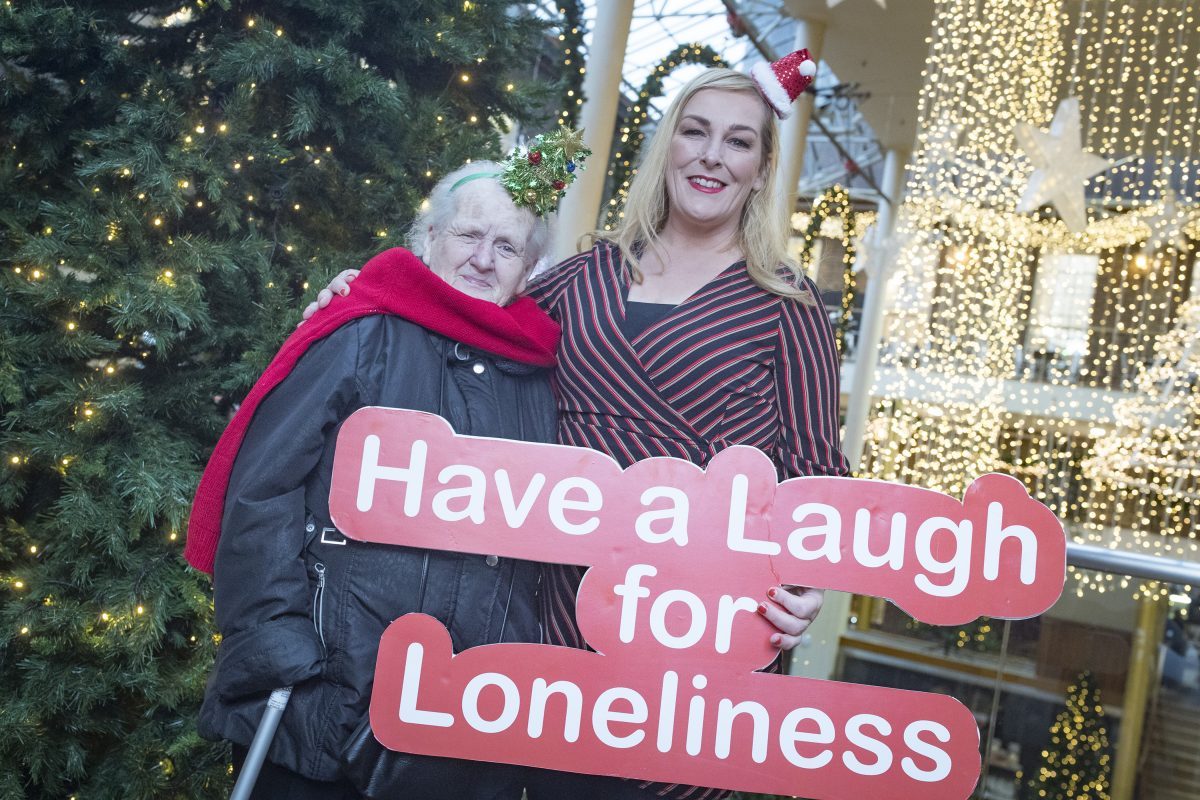 Katherine Lynch is asking the public to reach out and have a laugh with older people
spending Christmas alone
ALONE, the charity that supports older people to age at home, today launched their Christmas campaign which asks individuals to reach out to older people who may be experiencing loneliness or isolation and to Have a Laugh for Loneliness. Comedienne Katherine Lynch launched the charity's Christmas initiative in Powerscourt Townhouse Centre and urged members of the public to donate to ALONE and to offer friendship and support to those who are lonely or living alone.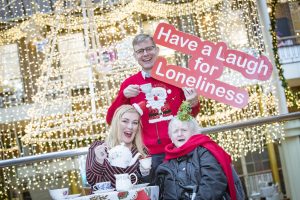 The campaign encourages families, friends, and communities to get together this winter to hold a bake sale, a coffee morning or another social event to raise funds for ALONE and combat loneliness in their community. The charity are also asking that the public make their Christmas donation to ALONE to help support the over 100,000 older people who are lonely in Ireland.
Katherine Lynch commented at the launch in the Powerscourt Townhouse Centre, "I'm so excited to help ALONE launch their Christmas campaign this year. I've long been an admirer of their work and delighted to be a part of such a positive message. Loneliness and isolation can be serious problems for older people and dropping in for a cup of tea or helping a neighbour with their shopping could make all the difference to their week."
She continued, "What we all need, no matter our age, is a good laugh. And there's really no better reason than Christmas to drop in to your older neighbour or relatives and catch up! We're all busier than ever and it's important to take the time to check on the people around us, whether someone needs some help or just your company."
ALONE provides direct, frontline services to people aged 60 years and over, through befriending, support coordination, housing and BConnect assistive technology. With the effects of loneliness on older people including increased risk of dementia, depression and cognitive decline, ALONE wants every older person to know that support is available to them.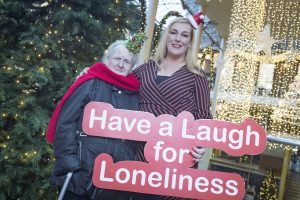 Seán Moynihan, CEO of ALONE, commented, "Over the winter period, calls for support dramatically increase and loneliness is one of the most common issues facing older people. Many older people think that by asking for help and support they are bothering people. ALONE want them to know that they deserve the help they require and should not be afraid to ask for it."
Moynihan continued, "We are asking members of the public to support ALONE by making a donation to support our services, donating their time to older people experiencing loneliness, or referring an older person who might use our services. These small acts of kindness can have an immensely positive impact on an older person's well-being and can offer a real sense of security and comfort."
Supporting the launch, Dr.Diarmuid O'Shea, President of The Irish Gerontological Society, said that "Loneliness is every bit as harmful to your health as smoking, drinking, lack of exercise, high blood pressure and obesity.We all have it in our power to help out with people who are lonely. We can beat loneliness one conversation at a time.Everyone needs a friend, so be that friend and befriend a neighbour this Christmas."
ALONE's activities over Christmas will include Christmas dinner dances for older people and volunteers, the delivery of hampers and Christmas trees to older people in need and a special Christmas Day dinner delivery for a number of older people.
For those who have concerns about their own wellbeing, or the wellbeing of an older person in their community, ALONE can be contacted on (01) 679 1032. To make a donation and help aid ALONE's work this Christmastime visit www.alone.ie
https://limelight.ie/wp-content/uploads/Alone-Xmas-Campaign-011-copy-e1543336595698.jpg
800
1200
support@inspiration.ie
https://limelight.ie/wp-content/uploads/2022/02/logo-2022-300x95.png
support@inspiration.ie
2018-11-27 16:20:16
2018-11-27 16:20:16
Have a Laugh for Loneliness with ALONE this Christmas