NORTH CIRCULAR
AWARD-WINNING IRISH DOCUMENTARY FEATURE
TO BE RELEASED IN SELECT CINEMAS DECEMBER 2nd  – WATCH THE TRAILER NOW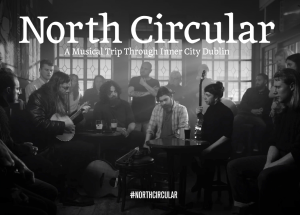 NORTH CIRCULAR – A Musical Trip through Inner City Dublin
"Those in power write the history, those who struggle write the songs" 
Watch the trailer HERE!
WINNER
SPECIAL MENTION DOCUMENTARY AWARD – Dublin International Film Festival 2022
BEST DOCUMENTARY FEATURE – Louth International Film Festival 2022
SPIRIT OF INDIECORK AWARD – IndieCork Festival 2022 
INTERNATIONAL PREMIERE – Sheffield DocFest 2022
OFFICIAL SELECTION – Galway Film Fleadh 2022 
North Circular, the highly anticipated Irish feature documentary debut from Dublin-based filmmaker Luke McManus will open in select cinemas nationwide on December 2nd.
North Circular is an award-winning documentary musical, travelling the length of Dublin's fabled North Circular Road, from the Phoenix Park to Dublin Port, meeting characters and hearing their personal stories, often told in music and song.  The film celebrates the vibrant cultural heritage of the various neighbourhoods the road connects, along with the addressing the challenges of living along the famed road.
These character's stories are both heartfelt and intimate. But they also evoke narratives from Irish history: imperialism, revolution, incarceration, institutionalisation, the housing crisis, and the struggle for gender equality.
Told in black and white 4:3 Academy ratio, North Circular also engages with urgent contemporary issues, including the battle to save the legendary Cobblestone Pub, centre of Dublin's new folk and trad scene, from destruction at the hands of property developers.
The film includes searing musical performances from artists who live along the North Circular, or 'The Norrier' as it's affectionately referred to by locals, including Lisa O'Neill, John Francis Flynn, Séan Ó Túama, Eoghan Ó Ceannabháin, Ian Lynch & Gemma Dunleavy.
It also features contributions from historians and writers who live in the area including Ellen Rowley, Eamon Delaney, Paul Rouse & Catriona Crowe.
Speaking on his debut feature documentary film, McManus said "North Circular is a personal film. I have lived just off the road itself for two decades and remain fascinated by its variety, by its contradictions, by the competing tensions that it finds within itself. There are numerous themes, characters and issues bubbling beneath the surface of the North Circular Road when you walk along it. A certain darkness at times, a celebratory energy at others: this single road encompasses so much diversity of human experience. This film will only ever be a glimpse of life on a couple of moments in the complex history of this multi-faceted place."
North Circular is written and directed by Luke McManus, edited by John Murphy and produced by Luke McManus & Elaine Gallagher for Madhouse Films, with funding from the Arts Council/An Comhairle Ealaíon under their ReelArt Scheme.
#NorthCircular
https://limelight.ie/wp-content/uploads/2022/10/northcircularimage-e1666705373199.png
455
1104
Limelight Comunications
https://limelight.ie/wp-content/uploads/2022/02/logo-2022-300x95.png
Limelight Comunications
2022-10-25 14:44:29
2022-10-25 14:44:29
'North Circular' – award-winning Irish documentary, in cinemas December 2nd