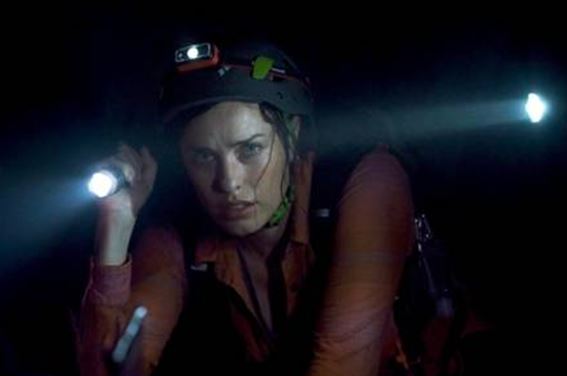 "Whatever you do, don't splash – do not move a muscle." The spine-tingling trailer for BLACK WATER: ABYSS has arrived, ahead of its theatrical release across Ireland from Friday 10 July.
The trailer starts with adventure-seeking couple Eric (Luke Mitchell, AGENTS OF S.H.I.E.L.D.) and Jennifer (Jessica McNamee, THE MEG) and their friends Yolanda (Amali Golden, THE INVISIBLE MAN) and Viktor (Benjamin Hoetjes, 10×10) lowering themselves into an ominous cave in remote North Australia, with the help of the unpredictable Cash (Anthony J. Sharpe, ROBERT THE BRUCE) as their guide. But when a tropical storm floods the cave and traps them underground, they soon realise they aren't alone in the water.
This is just a taster of the chills and spills audiences can expect from BLACK WATER: ABYSS, one of the first films to be released in Irish cinemas when they re-open. Ideal for fans of CRAWL, THE SHALLOWS and THE DESCENT to get their creature feature fix, it will reintroduce audiences to jump-out-of-your-seat horror on the big screen.
Directed by Andrew Traucki, who made the original BLACK WATER, this standalone sequel is the perfect popcorn chomping, thrill-filled cinema visit this summer. You'll enjoy the trailer, but dare you dive into the abyss for the full, fearsome lost in the dark experience?
BLACK WATER: ABYSS WILL BE RELEASED ONLY IN CINEMAS FROM 10 JULY WITH PREVIEWS FROM 4 JULY
Watch the BLACK WATER: ABYSS trailer HERE
Download the trailer file HERE
#BlackWaterAbyss
https://limelight.ie/wp-content/uploads/Black-water.jpg
376
567
support@inspiration.ie
https://limelight.ie/wp-content/uploads/2022/02/logo-2022-300x95.png
support@inspiration.ie
2020-06-24 16:09:38
2020-06-24 16:09:38
THIS SUMMER, FACE YOUR DEEPEST FEARS! BLACK WATER: ABYSS TRAILER DROPS