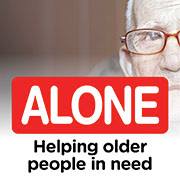 ALONE, the charity that supports older people to age at home, is highlighting the need for greater awareness around elder abuse this World Elder Abuse Awareness Day, which takes place tomorrow, Wednesday 15th June.
ALONE reports that abuse of older people is often carried out by a carer or family member that the older person relies upon and, as a result, the abused individual is often fearful of speaking out and losing their only source of contact, help or support. Older people who have no support within their community, without friends, neighbours or family to turn to, are four times more likely to suffer abuse than those with high levels of community support.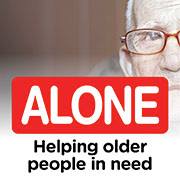 Sean Moynihan, CEO of ALONE, says of the issue, "Elder abuse can manifest itself in many forms. It may be physical, emotional, financial or neglect. It may be controlling an older person's pension, overcharging them for odd jobs or making them feel like a burden in any way."
He continued, "We are concerned that reports of elder abuse are seriously underreported.  There is often a complex relationship between the older person and their abuser as they can be reliant on them for other needs. They are therefore unable to or unwilling to report the abuse."
Moynihan concluded, "This is a really delicate issue and family members or members of the public who suspect abuse are welcome to reach out to ALONE.  We would also ask that the older person themselves gets in touch with us and we will treat their case with the utmost sensitivity. We want to educate older people that they have rights and if they have any concerns we are available to offer them independent advice and support.  It is important that those who are most vulnerable in society have a voice and that the balance of power is skewed to ensure they are protected."
The World Health Organisation identifies social isolation as a risk factor in elder abuse.  As people's support network narrows and they become more reliant on individuals the risk for elder abuse heightens.  ALONE's Support Coordination service ensures older people are linked in with the relevant services in their community.  The charity also runs a Befriending Service that ensures older people have an independent trained and trusted person visiting them every week.
World Elder Abuse Awareness Day takes place on 15th of June every year and was first established by the United Nations five years ago in an effort to raise public awareness about elder abuse in its many forms. As part of World Elder Abuse Awareness Day, ALONE will also be speaking at the Forum for Longterm Care in the Davenport Hotel.
For those who have concerns about their own wellbeing, or the wellbeing of a vulnerable older person in the community, ALONE can be contacted on (01) 679 1032. To make a donation and help aid ALONE's work visit www.alone.ie
https://limelight.ie/wp-content/uploads/Image-with-Logo.jpg
180
180
support@inspiration.ie
https://limelight.ie/wp-content/uploads/2022/02/logo-2022-300x95.png
support@inspiration.ie
2016-06-14 09:04:11
2016-06-14 09:04:11
ALONE supports World Elder Abuse Awareness Day